Highlights
Adds 4 additional liters of fuel to existing 3 liters in main tank
Installs or removes in a matter of minutes with one Allen wrench
Beta factory quality
Reasonably comfortable seat
Fits all full-size Rev-3 & Evo
Unobtrusive - won't interfere with rider in all but the most technical obstacles
Turns a trials bike into the most capable trail bike around
No more packing additional fuel on your back!
Email us: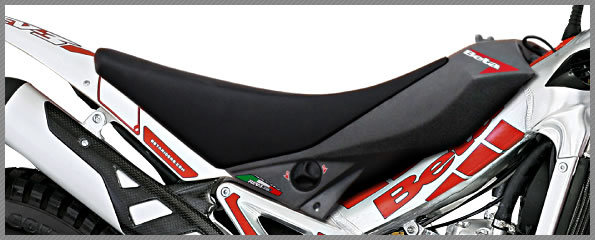 This is THE accessory for long distance trail riding on a trials motorcycle. Nothing out there quite compares to the Beta Long Range Kit. This seat/tank arrangement adds a full 4 liters of fuel to the existing capacity of the main tank. It's not a replacement tank, it's an auxiliary tank that more than doubles the range of a competition trials bike. If you're looking for a machine to explore the most obscure areas of the planet, a Beta Rev-3 or Evo with the Long Range Kit is unmatched. You have the agility and control of a state-of-the-art competition bike with unprecedented range. The Long Range Kit doesn't come cheap - hovering around the $549 mark at the moment - but when the versatility of the kit is understood, the price tag is more of a bargain than it appears. If you are already the proud owner of a Rev-3 or Evo, the Long Ride Kit is like adding a killer trail bike to your stable for just over $500. If you don't have a Rev-3 or Evo, used trials bikes are the most under-valued off road machine on the market. You can score a very nice used Rev-3, pick up a Long Range Kit, and easily have less than $4500.00 wrapped up in the entire package. Not bad for such a durable, versatile mountain (or back-woods) bike. The Long Range Kit fits all the full-size Rev-3s and Evos, two-stroke and four-stroke, 2000 and newer. Pick one up and go see what's on the other side of that mountain! Contact us to get one reserved on the next shipment; they're wildly popular and sell out quickly.
There are several different configurations for the Kit - one for 2000-2005 models, one for 2006+ models, one for Evo models. This is due to minor frame changes throughout the years, making the mounting slightly different. Make sure you know the year of your bike when you order or inquire.
Note that this kit is made by Beta for Beta, and specifically for the models listed here. Will it fit a Beta Techno? Not without a good bit of modification (no, we haven't tried it here). Same goes with any other brand - you may be able to adapt one, but it would take a lot of engineering. If you have the ambition to try adapting to another bike you're certainly welcome to do so, but understand the risk is yours.
We installed a Long Range Kit on a used 2004 Rev-3. Read our impression here (click the picture)!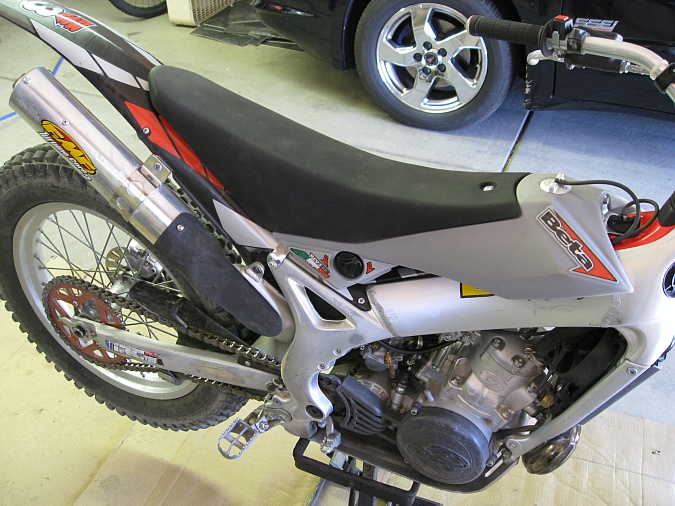 (Last update - December 15, 2015 )